Anthony Santoro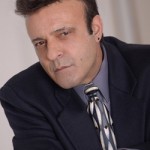 Anthony is a Brooklyn-born Italian/American who spent most of his working career in the Graphic Arts Industry. More to cite, he is a relatively well-traveled fellow who also has lived in many different parts of the United States.
His longtime love for film and movies, added to having always been told he has a magnetic and animated personality, led him to try his hand at acting.
He originally started, as most do, in background work, took some formal training with The Barrow Group in New York, and began auditioning for featured and principal roles fairly recently. So far out of 6 auditions, 4 have come his way. A good start, getting 3 principal roles in short films and 1 feature role in a movie called "American Dream in China", which will hit the Big Screen in 2013.