Craig Slon
Chief Audio Engineer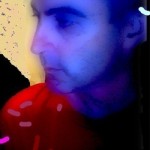 Craig Slon is a New York-based Composer (specialized in classical and contemporary classical music), and a seasoned Audio Engineer with a vast experience in voice/audio recording as well as in sound editing for animation and live action; having knowledge, craft and access to the latest recording studio technology. He recently has worked in the artistic short film "Sing for Hope: Pop-Up Pianos" and "Grandmaster of 108", an explosive short documentary about NYC skateboarding legend Andy Kessler.
Craig has credits on 100 films and 50 film festivals up to date, including First Run-NY (where he won a Craft Award for Original Score), Tous Courts Arx, Toronto International, Eksjo Animation, Anchorage International, San Francisco Independent, Tribeca, ADH, Clermont- Ferrand, Annecy, Female Eye, Bicycle, Los Angeles Short, Metropolis, Detroit Film and Video, Miami, Hearts and Minds, New York Expo, Planet Indie, IAAC, Dusty, Transitio, Moving Time, Tribute to Nam June Paik, Euro Festival, Zinebi Festival Internacional de Cine, and Newfest.
In parallel, he has recorded numerous classical music ensembles, many of which have been performed in Spain, Denmark, Australia, and Peru; and has a credit as mastering engineer on the contemporary classical label Innova. Besides, Craig Slon has experimented with the resonant signatures of glass, metal, wood, plastic and ceramic materials in the context of electro-acoustic music, and has investigated the role of audio recording in paranormal phenomenon. Some electro-acoustic music collaborations with dance have been performed in the United States, Mexico, Scotland and China.
Bekir Ognat
Writer/Director
Bekir Ognat, clearly intrepid man of many hats, started studying acting 5 years ago as an exciting fun experiment. He earned the nickname "Big Boss" from his acting friends in New York due to his choices during improvisation exercises. Some of these strong choices, however, led him to be kicked out of school where he had been studying the Meisner Technique for 2 years. Nevertheless, he is not easily deterred, and soon after his tenacious curiosity had propelled him on to filmmaking courses at the School of Visual Arts, New York University, New York Film Academy, and the New School. At one point he concurrently had a full time job and classes 7 days a week at different schools. What is more, he sometimes slept in his car, and seriously wished he had an RV to make his life easier.

Down the road, he has now actively taken part in some film projects and he even volunteered in a number of indie movies, including "Hitting Rock Bottom", and not long ago he also participated as a producer in the short film "Kill St". Bekir currently has other upcoming movie projects of his own to be developed after this short film "CIRCLE" is fully completed and released. He still takes classes from HB Studio to stay connected to acting, which he firmly believes is the foundation of good filmmakers, writers, and directors.