David Powers
Assistant Art Director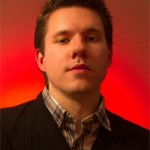 David Powers kicked the doors off its hinges when he chose a career in film in the summer of 2010. With no prior schooling in film he was on set by February 2011, and in less than 6 months he was capable of procuring a position on FOX's "Kitchen Nightmares" due to his work ethic.
In about a year's time due to his experience he was able to pen, produce, direct and act in his own dark comedy web series "Daves", under his own Mextech brand. Regardless of the series being currently in post-production it's quality brought him to the attention of Digitial Democracy's Corey Snyder to pen his docudrama "Hitting Rock Bottom". Here Mr. Powers was able to display his range as a writer for multiple genres to Mr. Snyder's approval. Immediately due to his adaptability and uncanny ability he was personally requested by fellow Parts Unknown resident, the WWE's Ultimate Warrior to participate on screen for his program "Warrior University". Mr. Warrior declared: "You inspire me!" after Mr. Powers' performance on his show. With an insatiable desire to succeed in film and still currently taking any and all positions offered to him, Mr. Powers is hard at work finishing "Daves", pre-producing the next Mextech web series "Mama Walde: Psychic Hotline Detective", as well as offering assistance on Mr. Bekir Ognat's directorial debut of "CIRCLE". With no end in sight Mr. Powers makes good on his involvement on all projects baring his name.
Bekir Ognat
Writer/Director
Bekir Ognat, clearly intrepid man of many hats, started studying acting 5 years ago as an exciting fun experiment. He earned the nickname "Big Boss" from his acting friends in New York due to his choices during improvisation exercises. Some of these strong choices, however, led him to be kicked out of school where he had been studying the Meisner Technique for 2 years. Nevertheless, he is not easily deterred, and soon after his tenacious curiosity had propelled him on to filmmaking courses at the School of Visual Arts, New York University, New York Film Academy, and the New School. At one point he concurrently had a full time job and classes 7 days a week at different schools. What is more, he sometimes slept in his car, and seriously wished he had an RV to make his life easier.

Down the road, he has now actively taken part in some film projects and he even volunteered in a number of indie movies, including "Hitting Rock Bottom", and not long ago he also participated as a producer in the short film "Kill St". Bekir currently has other upcoming movie projects of his own to be developed after this short film "CIRCLE" is fully completed and released. He still takes classes from HB Studio to stay connected to acting, which he firmly believes is the foundation of good filmmakers, writers, and directors.