Dila Paris Kalem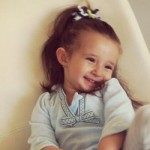 Born in New York in October 2009, Dila Paris has always been the center of attention among her peers. She began modeling at charity events, web site product photo shoots and started playing tennis and gymnastics at the age of 4.
Dila Paris loves painting, singing, dancing, and playing with his Dad…
"CIRCLE" will be her acting debut and she is very excited and looking forward to it.