Dominick Mancino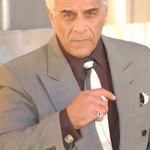 Born on August 3, 1953 in Brooklyn, New York; Dominick Mancino is the eldest of 3 sons, and currently married, with 2 grown children. He has always loved music, and can "still" dance to the likes of Saturday Night Fever, Dirty Dancing and Footloose. As a thoughtful person he is, he started acting career late so as to raise and spend time with his family. In his spare time he relaxes by fishing, bowling and woodworking; coincidentally this has been compared to the likes of Eric Estrada and John Gotti. Besides this fact, Dominick is known among family members and friends as "Big Dom" or "Hollywood".
Acting-wise he played the CEO Bob in the movie "Dark Fantasy", directed by Ian J. Keeney; as well as the Mafia boss Don Barbetta in the feature "Break a Leg", directed by Monika Mitchell. Dominick appeared in a National Geographic Documentary "Inside The Mafia", played the Locksmith in "The Insideman" with Denzel Washington, and impersonated a NYC Police Sergeant in "Pride and Glory" with Colin Farrell. In that same manner, he has also been featured in "The New York Post", "Stuff Magazine", and most recently in a "New York State Lottery Commercial" (BA-DA Bling).
Bekir Ognat
Writer/Director
Bekir Ognat, clearly intrepid man of many hats, started studying acting 5 years ago as an exciting fun experiment. He earned the nickname "Big Boss" from his acting friends in New York due to his choices during improvisation exercises. Some of these strong choices, however, led him to be kicked out of school where he had been studying the Meisner Technique for 2 years. Nevertheless, he is not easily deterred, and soon after his tenacious curiosity had propelled him on to filmmaking courses at the School of Visual Arts, New York University, New York Film Academy, and the New School. At one point he concurrently had a full time job and classes 7 days a week at different schools. What is more, he sometimes slept in his car, and seriously wished he had an RV to make his life easier.

Down the road, he has now actively taken part in some film projects and he even volunteered in a number of indie movies, including "Hitting Rock Bottom", and not long ago he also participated as a producer in the short film "Kill St". Bekir currently has other upcoming movie projects of his own to be developed after this short film "CIRCLE" is fully completed and released. He still takes classes from HB Studio to stay connected to acting, which he firmly believes is the foundation of good filmmakers, writers, and directors.