Galway McCullough
Stunt Coordinator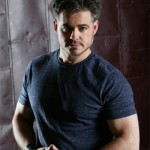 Galway moved to NYC from Minneapolis in the fall of 2003, and hit the ground running. Less than 24 hours after his arrival he began his first fight choreography gig in the city. He has been studying, performing, choreographing, and teaching Staged Violence since 1992. Just one year after, he was awarded the Best Male Actor Combatant Award/1993 at the National Stage Combat Workshop. He has choreographed/coordinated the violence for over 50 on-camera and theater projects.
Some career highlights include "The Tragedie of MacBeth" for The WorkShop Theater, getting beheaded at the 2010 Cannes Film Festival in the opening sword fight sequence of "The Crimson Mask" (which garnered over 40 festival awards including 2 for Best Stunts), he has worked on the ABC hidden camera show "What Would You Do?", had his work featured on the Yahoo home page for National Talk Like A Pirate Day and has been even interviewed by BBC Radio about his profession and craft. Galway is also a partner of Combat Inc: www.combatinc.com.
Bekir Ognat
Writer/Director
Bekir Ognat, clearly intrepid man of many hats, started studying acting 5 years ago as an exciting fun experiment. He earned the nickname "Big Boss" from his acting friends in New York due to his choices during improvisation exercises. Some of these strong choices, however, led him to be kicked out of school where he had been studying the Meisner Technique for 2 years. Nevertheless, he is not easily deterred, and soon after his tenacious curiosity had propelled him on to filmmaking courses at the School of Visual Arts, New York University, New York Film Academy, and the New School. At one point he concurrently had a full time job and classes 7 days a week at different schools. What is more, he sometimes slept in his car, and seriously wished he had an RV to make his life easier.

Down the road, he has now actively taken part in some film projects and he even volunteered in a number of indie movies, including "Hitting Rock Bottom", and not long ago he also participated as a producer in the short film "Kill St". Bekir currently has other upcoming movie projects of his own to be developed after this short film "CIRCLE" is fully completed and released. He still takes classes from HB Studio to stay connected to acting, which he firmly believes is the foundation of good filmmakers, writers, and directors.