Jehan-Pierre Vassau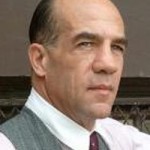 Jehan Pierre Vassau (a.k.a "The Preacher") was born and raised in Morristown, New Jersey. He left high school as a skinny pencil-neck geek and decided to join the army. He spent a year serving on the DMZ in South Korea, and while there he enrolled himself into the army boxing team becoming a two-time army boxing champion. After serving his country Jehan Pierre left the service and became involved with several motorcycle clubs. He spent most of his time preaching the Gospel to outlaw bikers, earning in this way the nickname "Preacher". He also fought as a professional boxer in the light heavyweight division and worked as a sparring partner to IBF world light Heavyweight Champion Bobby Czyz. After getting fired from the Harley Davidson dealership for knocking out his second employee, he ended up working at a transmission shop where his two friends Bob and Joe circled as a joke a newspaper add that said 'Actors wanted'; to which Jehan Pierre replied "what you don't know is I grew up doing theater, I will call this number and go make a living as an actor and you guys can pull transmissions the rest of your life".
At present time he is a bouncer at a night club, a personal trainer, and an active member of the Screen Actors Guild. He loves every bit of the industry, and he has had the opportunity to work with many great actors, such as Robert Duval, Mark Wahlberg, Vin Diesel, James Gandolfini, Michael Douglas, Linus Roache, Jeff Goldblum and Russell Crowe to name a few; as well as being blessed with a small reoccurring role on the TV series "Boardwalk Empire" which airs on HBO, and impersonating now a quite sui generis mob in this short film "CIRCLE". He truly loves his job and he thinks being an actor is the best thing in the world.
Bekir Ognat
Writer/Director
Bekir Ognat, clearly intrepid man of many hats, started studying acting 5 years ago as an exciting fun experiment. He earned the nickname "Big Boss" from his acting friends in New York due to his choices during improvisation exercises. Some of these strong choices, however, led him to be kicked out of school where he had been studying the Meisner Technique for 2 years. Nevertheless, he is not easily deterred, and soon after his tenacious curiosity had propelled him on to filmmaking courses at the School of Visual Arts, New York University, New York Film Academy, and the New School. At one point he concurrently had a full time job and classes 7 days a week at different schools. What is more, he sometimes slept in his car, and seriously wished he had an RV to make his life easier.

Down the road, he has now actively taken part in some film projects and he even volunteered in a number of indie movies, including "Hitting Rock Bottom", and not long ago he also participated as a producer in the short film "Kill St". Bekir currently has other upcoming movie projects of his own to be developed after this short film "CIRCLE" is fully completed and released. He still takes classes from HB Studio to stay connected to acting, which he firmly believes is the foundation of good filmmakers, writers, and directors.