Kelsey Deanne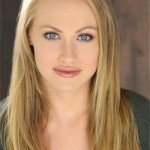 Kelsey Deanne was born in Fort Worth, TX and moved around during her childhood to Houston, South Dakota, and the Bay Area, CA. Growing up she was heavily involved with piano, dance, band (drums and oboe), road cycling, and competitive running. After graduating from Burlingame High School one year early, she attended Lawrence University's Conservatory of Music in Appleton, WI on a piano performance scholarship. She switched majors to anthropology, joined the Cross-Country and Track teams, and earned a B.A. in three years. She continued to earn two M.A. degrees in anthropology from University of North Texas and The New School (NYC). After piano and anthropology didn't quench her thirst, she moved to New York to pursue her real passion – acting. After three years of guns blazing, her resume includes a co-star role in a NBC web pilot "Harbors", lead in SyFy's "School Spirits", lead and supporting roles in three Discovery ID shows, and now the role of Brandy in "CIRCLE".
In regards to how Kelsey made the seamless leap from anthropology to acting, she says"Anthropology and acting are very similar in regards to their never ending pursuit of what it means to be human: behavior that can be both calculable and enigmatic simultaneously. However, while anthropology tries to view human behavior through an objective lens, acting is subjective – as actors we share ourselves and others' lives through vulnerable, carnal emotions and phsyicalities. It's a lot more powerful to visually experience human behavior than it is reading about it". In her free time, she enjoys running in Central Park with her Doberman Pinscher (Onyx), completing puzzles, reading voraciously, and exploring NYC with her husband, Frederik.
Bekir Ognat
Writer/Director
Bekir Ognat, clearly intrepid man of many hats, started studying acting 5 years ago as an exciting fun experiment. He earned the nickname "Big Boss" from his acting friends in New York due to his choices during improvisation exercises. Some of these strong choices, however, led him to be kicked out of school where he had been studying the Meisner Technique for 2 years. Nevertheless, he is not easily deterred, and soon after his tenacious curiosity had propelled him on to filmmaking courses at the School of Visual Arts, New York University, New York Film Academy, and the New School. At one point he concurrently had a full time job and classes 7 days a week at different schools. What is more, he sometimes slept in his car, and seriously wished he had an RV to make his life easier.

Down the road, he has now actively taken part in some film projects and he even volunteered in a number of indie movies, including "Hitting Rock Bottom", and not long ago he also participated as a producer in the short film "Kill St". Bekir currently has other upcoming movie projects of his own to be developed after this short film "CIRCLE" is fully completed and released. He still takes classes from HB Studio to stay connected to acting, which he firmly believes is the foundation of good filmmakers, writers, and directors.