Milica Petrovic
Line Producer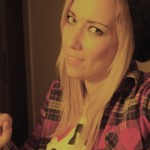 Born and raised in a small town in Eastern Serbia where film industry is not very developed nor a promising career, Milica's dream of becoming a director felt shut down very quick at first. Yet she made a short documentary movie about her & her classmates' time in high school that is still kept up to date in the files of her school. Besides being an excellent student and the biggest prankster around, she became known for organizing social events for the students, such as prom nights, parties, concerts and picnics outside of town.
Before graduating from high medicine school, Milica took part in "Actually It is Love", theater play crew where served as a production assistant and promoter. This play became a success and was about to be performed in Sweden; but after finding out she would not be traveling there with the cast and that her place was taken by a professor, Milica was a minute away from walking out on the production field. As quitting is never an option, instead she began assisting photographers with photoshoot production during her college years in Belgrade. Being indeed forced to attend a particularly 'boring and annoying' fashion event, she met a production designer by accident and they became best friends, business partners and roommates. Growing up along as young professionals, the experience they gained specializing in music video production and photography turned out, as they say, being bigger than any other professional with more years of craft because 'Everything that could have gone wrong in the shoots, it did'.
Then, resulting in Freelancing Kids who hit more than 12.000.000 views for the music videos on YouTube, their careers took off and seemed suddenly to be going in the right direction. Their photographs were published in various magazines such as "Story", "People", "Elle" and "Cosmopolitan" to name a few. Milica currently lives, works and studies in New York, and her main areas of interest are production and talent management.