Ratnesh Dubey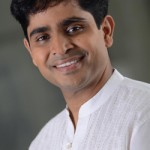 Ratnesh Dubey is a New York-based actor and comedian. He has extensive experience as an actor both in Film and Stage; and as a comic, he has performed Stand Up at clubs (such as Carolines, Comedy Cellar and Gotham to name a few just in NY) and prestigious colleges all across the country.
He is originally from Mumbai, and has lived in the United States for over fifteen years by now. As a good consequence, Ratnesh is well rooted in Eastern values and yet well immersed in Western culture. This cultural perspective renders a unique style and gives a wide range to his acting choices. While Ratnesh is known for his animated expressions and comedic timing, he is equally strong with dramatic roles. By being a comic he regularly writes, thus he can be relied greatly or improvising in any acting part. His high energy presence enlivens any scene; and his friendly nature and positive attitude makes him a delight to work with.
Bekir Ognat
Writer/Director
Bekir Ognat, clearly intrepid man of many hats, started studying acting 5 years ago as an exciting fun experiment. He earned the nickname "Big Boss" from his acting friends in New York due to his choices during improvisation exercises. Some of these strong choices, however, led him to be kicked out of school where he had been studying the Meisner Technique for 2 years. Nevertheless, he is not easily deterred, and soon after his tenacious curiosity had propelled him on to filmmaking courses at the School of Visual Arts, New York University, New York Film Academy, and the New School. At one point he concurrently had a full time job and classes 7 days a week at different schools. What is more, he sometimes slept in his car, and seriously wished he had an RV to make his life easier.

Down the road, he has now actively taken part in some film projects and he even volunteered in a number of indie movies, including "Hitting Rock Bottom", and not long ago he also participated as a producer in the short film "Kill St". Bekir currently has other upcoming movie projects of his own to be developed after this short film "CIRCLE" is fully completed and released. He still takes classes from HB Studio to stay connected to acting, which he firmly believes is the foundation of good filmmakers, writers, and directors.