Richard Cerqueira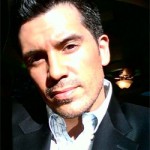 Richard is of Portuguese-Brazilian descent with some American Indian in his heritage. He lives in New York, holds a degree in Biology; and on the other hand, he is a fitness and fashion model, disciplines which are also his hobbies along with carpentry. He is actually on the cover of over 200 romance novel covers (and he still does some book cover modeling). He won the first runner-up at the Romantic Times Pageant in Baton Rouge in 1996.
His major in college is Pre-Med and he minored in Fine Arts.
Later on, he attended graduate school and earned a degree in Cellular Biology. He ended up getting tired of school, so he messed around in the stock market and made lots of money… only to then lose lots of money. As a result, he went to work for his father at his jewelry company. Since working with family isn't always easy he decided to start his own business: Performance Utility Vehicles; designing and manufacturing specialty parts for Jeeps. While yet having the business he needed some extra income till things in the Jeep biz pick up, so he took a job at a bank and is working as a Senior Loan Officer. He went to school to be a doctor and instead plays with Jeeps and sells loans, go figure! Richard's preferences are: remodeling, construction, auto repair and mechanics. Sports activities range from BMX stunt, bicycling to horseback riding. He also enjoys making silver jewelry, painting and sculpture. In 2007, Richard appeared on Spike TV's Bullrun. Currently he is seriously pursuing a career in acting.
Bekir Ognat
Writer/Director
Bekir Ognat, clearly intrepid man of many hats, started studying acting 5 years ago as an exciting fun experiment. He earned the nickname "Big Boss" from his acting friends in New York due to his choices during improvisation exercises. Some of these strong choices, however, led him to be kicked out of school where he had been studying the Meisner Technique for 2 years. Nevertheless, he is not easily deterred, and soon after his tenacious curiosity had propelled him on to filmmaking courses at the School of Visual Arts, New York University, New York Film Academy, and the New School. At one point he concurrently had a full time job and classes 7 days a week at different schools. What is more, he sometimes slept in his car, and seriously wished he had an RV to make his life easier.

Down the road, he has now actively taken part in some film projects and he even volunteered in a number of indie movies, including "Hitting Rock Bottom", and not long ago he also participated as a producer in the short film "Kill St". Bekir currently has other upcoming movie projects of his own to be developed after this short film "CIRCLE" is fully completed and released. He still takes classes from HB Studio to stay connected to acting, which he firmly believes is the foundation of good filmmakers, writers, and directors.