Stephane Verzi
Art Director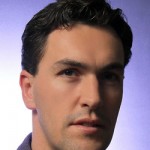 Born in Rouen, France; Stephane spent his childhood among the fascinating merchandise of a big electronics warehouse store owned by his family. He spent 2 of his teen years in St. Martin Island to then move back to France; where he studied art and philosophy, entered the Plastic Art Studio, and was admitted at the École Nationale Supérieure des Beaux-Arts de Nancy.
In 1996, Stephane moves to the US, at North Adams, MA; starting from an internship at Kleiser Walczac Construccion Co, to then keep going as a production assistant, office manager, director assistant; all while learning the world of animation /3D during 5 years with some of the best animators, directors and producers of the time. Soon came the opportunity to work on commercials, 3D amusement park ride for clients such as Universal Studios, Busch Gardens, Radio City Music Hall, also on the features films "X-Men", "X-Men II", "Carrie 2", and "The One". Besides, he even dedicated time to teach Photoshop, Digital Photography, and Introduction To Arts for kids in Art schools in MoCA area, Mass. In 2007 he moves to NYC to fully pursue his career in the movie business. While still working in garment design he studied directing, cinematography and production design at the School of Visual Arts. Along this process Stephane has found himself working passionately on varied music videos, zombie movies, sitcoms, commercials; plus definitely multiple exciting projects keep coming on his plate.
Bekir Ognat
Writer/Director
Bekir Ognat, clearly intrepid man of many hats, started studying acting 5 years ago as an exciting fun experiment. He earned the nickname "Big Boss" from his acting friends in New York due to his choices during improvisation exercises. Some of these strong choices, however, led him to be kicked out of school where he had been studying the Meisner Technique for 2 years. Nevertheless, he is not easily deterred, and soon after his tenacious curiosity had propelled him on to filmmaking courses at the School of Visual Arts, New York University, New York Film Academy, and the New School. At one point he concurrently had a full time job and classes 7 days a week at different schools. What is more, he sometimes slept in his car, and seriously wished he had an RV to make his life easier.

Down the road, he has now actively taken part in some film projects and he even volunteered in a number of indie movies, including "Hitting Rock Bottom", and not long ago he also participated as a producer in the short film "Kill St". Bekir currently has other upcoming movie projects of his own to be developed after this short film "CIRCLE" is fully completed and released. He still takes classes from HB Studio to stay connected to acting, which he firmly believes is the foundation of good filmmakers, writers, and directors.