Thomas Bruno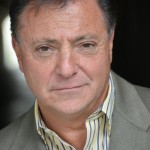 Thomas Bruno, who is quite obviously of Italian descent, was a NYC Firefighter for twenty years and took part in the rescue/recovery efforts after the events of 9/11. He retired in 2002 and since has concentrated more on his acting craft. Nowadays he brings his expertise in the field of Firefighting and Police work to film and TV. He was a core regular as well as principal on the series "Third Watch" for its seven-year run. He has about 7 episodes of "Law & Order S.V.U." and the regular "Law & Order" where early roles were the ones of a Police Officer and an ESU Officer. There he ended up with a recurring role as Fire Chief Daniels and Firefighter Wilcox.
As of late he has been an FDNY Technical Advisor on the TV show "NYC 22", the upcoming film not yet titled but called up to date "Jack Ryan Project", and the TV Show "Elementary". He also has a principal/stunt role of a L.A.P.D. Cop in the awaited feature film "Spector" starring Al Pacino. In like manner he will be seen in the upcoming pilot "Gun Hill" in which he plays a stunt role combo Militia Drug Dealer, plus a role in the future film "Blood Ties" as a brinks guard/stunt to be released next year. Thomas studies at The Actors Training Institute of New Jersey under the direction of teacher John Eyd.
Bekir Ognat
Writer/Director
Bekir Ognat, clearly intrepid man of many hats, started studying acting 5 years ago as an exciting fun experiment. He earned the nickname "Big Boss" from his acting friends in New York due to his choices during improvisation exercises. Some of these strong choices, however, led him to be kicked out of school where he had been studying the Meisner Technique for 2 years. Nevertheless, he is not easily deterred, and soon after his tenacious curiosity had propelled him on to filmmaking courses at the School of Visual Arts, New York University, New York Film Academy, and the New School. At one point he concurrently had a full time job and classes 7 days a week at different schools. What is more, he sometimes slept in his car, and seriously wished he had an RV to make his life easier.

Down the road, he has now actively taken part in some film projects and he even volunteered in a number of indie movies, including "Hitting Rock Bottom", and not long ago he also participated as a producer in the short film "Kill St". Bekir currently has other upcoming movie projects of his own to be developed after this short film "CIRCLE" is fully completed and released. He still takes classes from HB Studio to stay connected to acting, which he firmly believes is the foundation of good filmmakers, writers, and directors.